What is it?
Would you love to have thicker and more fuller looking eyebrows? Microblading could be the perfect treatment for you.
Microblading is a form of semi permanent tattoo that uses tiny needles to help deposit pigment under your skin. The strokes created by our practitioners are so natural to give an effect of real hair.
Results
The procedure is done over a course of 2 appointments. It is essential to do a patch test prior the treatment to ensure there is no allergy to the pigments used.
The design of the brows will be tailored to your specific face shape and colour matched uniquely to your skin tone and hair colour.
Your eyebrows will typically last 6-18 months and will fade gradually and naturally.
Aftercare
Between the initial treatment and the follow up appointment you will be given aftercare advice. Aftercare is a very important part of the healing process and recommended that you follow this to ensure results are perfect!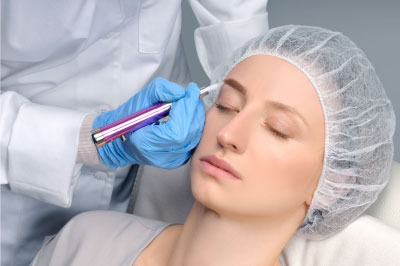 I absolutely love my lips! Thanks Harneet! She really made me feel comfortable about the process of having lip fillers, I was so nervous that I would end up with an obvious pout but Harneet made sure that it would look so natural with a little extra volume. It's just how I wanted it, and not as painful as I was expecting. Thank You!

I've always felt that my love handles will be a problem for me but I convinced myself that I will try the fat freeze treatment. To my surprise it actually worked, I put in my own hard work like the practitioner had told me but I saw amazing results and so happy I went ahead with it and I definitely recommend it

I had the HIFU Facelift and can't believe how much of a difference it's made my face feel and look. It's such a natural way to tighten your skin and I think it's the safest way, I love it! Thanks to Harneet the practitioner